Instructions to setup SMPP Service Provider connection in Ozeki Bulk Messenger
With our Ozeki Bulk Messenger software you can send bulk SMS text messages through the Internet with the help of a Short Message Service Peer to Peer Protocol (SMPP) which is offered by mobile network operators. Below we will show you how to setup an SMPP connection in the Ozeki Bulk Messenger.
Step 1 - Create new SMS connection
On the left side of the 'Quick Start' page please click on the 'Connections' tab. After that select 'Create new Connection' and in the 'Connection details' window chooose 'SMS'.
Figure 1 - SMS connection
Step 2 - Create SMPP connection
In this case choose the 'SMPP' type of connection.
Figure 2 - Choose SMPP connection
Step 3 - General tab information
On the 'General' tab you can configure your connection settings.
'Connection name' tab:

Provide a unique name which will make it easier to manage your connections.



'Connect to server' tab:


'Host:' This is provided by your mobile network operator. It is the IP address of the operator.
'Port:' The port number is 9500 by default. You will have to change it to the number you get from your network operator.



'Identification' tab:

'Username:' This is given by your service provider. It is sometimes the phone number or the port number.
'Password:' You also get this from your service provider.
'Phone number:'Enter ESME number or number range.
Figure 3 - General tab
Step 4 - SMS tab details
On the 'SMS' tab you can see the protocol options in more detail.
Figure 4 - SMS tab
'Bind' menu: This is where you have to provide connection parameters.

Figure 5 - Bind menu

'Sender ID' menu: Connection parameters.

Figure 6 - Sender ID menu

'Priority flag' menu: Choose a priority level.

Figure 7 - Priority flag menu

'DCS' menu: The charset, message class and binary message encoding is determined by this setting.

Figure 8 - DCS menu

'ESM' menu: Setup ESM class fields.

Figure 9 - ESM menu
'Character Encoding' menu: Set the character set and the character encoding policy.
Figure 10 - Character Encoding menu
'User data' menu: Specify the encoding requirements of the short message data.
Figure 11 - User data menu
Step 6 - Advanced tab details
On the 'Advanced' tab you can setup optional settings like limiting the speed of your connection with the 'Speed (MPM)' option or you can use the 'Keepalive' mechanism to avoid disconnection while there is no traffic.
Figure 12 - Advanced settings
Step 8 - Log menu details
On the 'Log' tab you can log your messages.
Figure 13 - Logging settings
Step 9 - How to send a test SMS message
Please select the 'Details' button to see the event log, modify the configuration or send a test SMS.
Figure 14 - How to send a test SMS
Step 10 - Send a test SMS message
Click on the 'Test' button to open the message window.
Figure 15 - How to send a test SMS
'To:' Add the number you would like to send a message to.
Type something into the blank area.
You can also check if your connection is working, if there is a green check mark below the Event log then you are ready to send your test SMS.
Finally press 'Send'.
Figure 16 - Composing a text message
After you have clicked 'Send', a program message will show up in the middle saying that the sending process has started.
On the bottom of the page you will see a green check mark showing that the connection is working.
Figure 17 - Successful connection
If you click on the 'Event' or the 'Log' tab you can check whether your message was successfully sent to the recipient.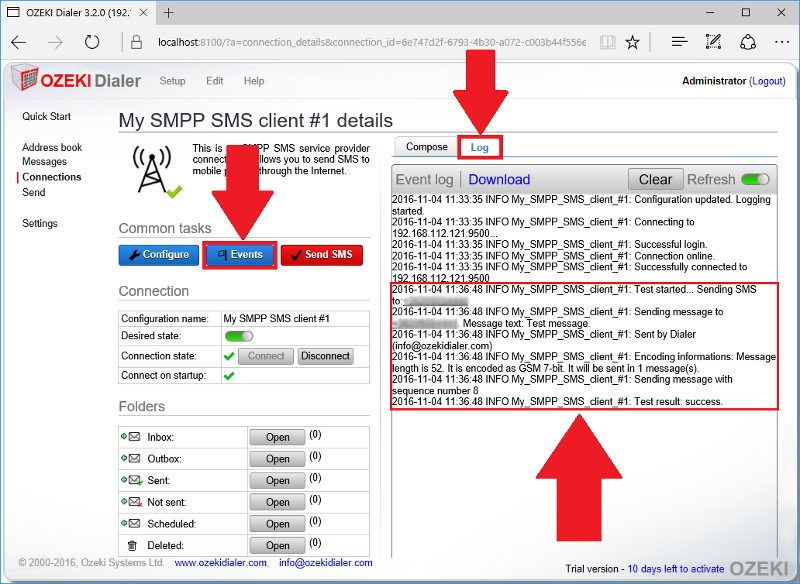 Figure 18 - Test SMS message sent
---