---
Best 3D Design Software
When it comes to 3D printing an object, the first step is designing it. We have collected the top 10 designer software for you. All of them are very easy to learn and use but each has different pros and cons. We advise you to choose your CAD-software according to your plans because the updates are usually thematic. The 3D - Debrecen Printers produce the same high quality results with every software.
SolidWorks

SolidWorks is a premium level designing software which comes in 3 bundles. This software is specialized to designing metal objects and due to this it features functions like kinetic simulation and stress analysis. While focusing on metal it has very limited functions when it comes to plastics. We advise this software for those who want to work with electric components or machinery parts.
Get it from here: http://www.solidworks.com/
Autodesk Inventor

The Autodesk Inventor is a top level machinery part designing software. It features extremely advanced assembler functions which let you to view your parts assembled. This is a big advantage to those who want to print complicated parts. Our experience says that this may not be the best choice for those who are looking for single objects like jewellery.
Get it from here: http://www.autodesk.com/products/inventor/overview
AutoCAD (free)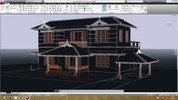 AutoCAD is a free software which shares developement with Autodesk Inventor. This software features a limited but all-round toolset which makes it highly adaptable. Produced primarly for hobbyists and educational use this tool requires a little bit more practise and planning then the others but on the long term it worths the time spent on it.
Get it from here: http://www.autodesk.com/education/free-software/autocad
SolidEdge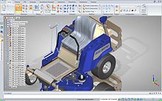 SolidEdge is a very unique software due to its synchronization technology which lets you to design an object composed of multiple copies of the same object (i.e. a car with 4 wheels) and modify the objects together. This software is ideal for those who are doing modelling work or want to design objects having simultaneous parts. We also recommend this software for its ease of use
Get it from here: http://www.plm.automation.siemens.com/en_us/products/solid-edge/index.shtml
FreeCAD (free)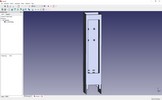 FreeCAD is a freely available advanced design software. It is available for nearly every platform and has a huge and supportive online community. Like all open source software it takes some time to learn and costumize but after that it will be a very good designer software. This software is ideal for hobbyists and for those who favour mathematical planning and dislike dragging.
Get it from here: http://www.freecadweb.org/
Catia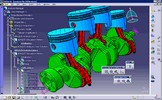 Catia is the world's leading designer software specialized in complex parts and gears. This software has heavy electrical planning features which makes it ideal for designing surfaces with circuits and electric components on it. It also has aerodynamics support and is widely used in the car and airplane industry. The software also has live support and a very detailed tutorial.
Get it from here: http://www.3ds.com/products-services/catia
Autodesk 123D (free)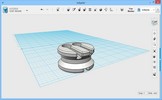 Autodesk 123D is a free designer software which is available for PC, Mac and iPad. This software is using drag-and-drop methods for creating which is ideal for those who are visual types. While it is easy and free, its methods are sometimes inaccurate. It also lacks any simulation abilites. Because of this Autodesk 123D is not advised for precise modeling or creating complex machine systems.
Get it from here: http://www.123dapp.com/design
OpenSCAD (free)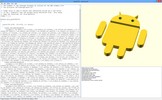 For those who like to code their solutions, OpenSCAD is an ideal solution. This free software creates a code which can be edited and the result can be seen in real time. Being an open source software means that it is easily installed and can be modified to fit specific needs. For those however who lack coding skills or have little computer knowledge operating the OpenSCAD can be real hard.
Get it from here: http://www.openscad.org/
IronCAD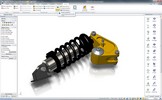 IronCAD is one of the most flexible software in the field of CAD. It creates the objects from adjustable shapes and lets the user to modify these shapes at will. It also features various editing effects which effectively combine drag-and-drop methods with mathematical planning and editing. This software is ideal for producing single objects but designing complex gears with it is not easy for beginners.
Get it from here: http://www.ironcad.com/
Leopoly (free)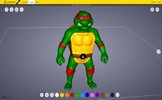 Leopoly is an online application which lets the user to add or form objects by drag-and-drop method. It is free to use, requires no download and stores your creation in an open cloud storage. While it is ideal for hobbyists and creative designers, there is no way to make precise cuts or design mathematically specified objects with it.
Get it from here: https://leopoly.com/
More information
---
---