---
Connect your phone to the PC with an RS232 serial cable
In order to send or receive SMS messages from your PC, you can attach your phone to the PC with a phone-to-pc data cable (Figure 1). The cable is attached to the serial port of your computer. The serial port is located on the back side and has 9 pins. The name of the serial port in your operating system is COM1 or COM2.

If you select from different alternatives, for example Serial, USB, IR, BT connection, choosing the serial cable is the best option. An RS232 serial data cable is a simple and reliable tool. Industrial GSM modems used in environments, where performance and reliability is crucial are always connected using a RS232 cables.
If you wish to build an environment where it is important to operate all the time, we suggest to use an industrial GSM modem (Figure 2):
SIEMENS TC35 / SIEMENS MC35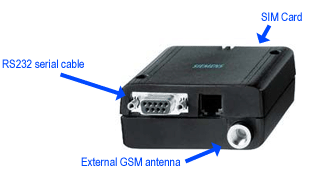 An excellent GSM phone released by Siemens. It can be connected directly to the power supply of the PC. It uses an external antenna, and it has a standard 9 pin RS232 interface. You need a standard RS232 "mouse extender" cable to connect this device to the PC.
WAVECOM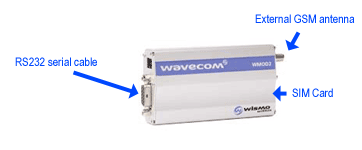 Wavecom provides very fast and reliable modems for a good price. These modems need an external GSM antenna, an RS232 data cable. Just like the Siemens MC35 they can be connected directly to the power supply of your PC.
NOKIA 30/ Nokia 32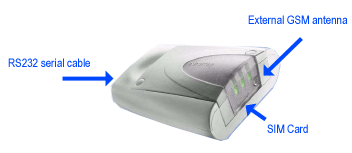 The Nokia 30 is also an excellent GSM phone. You can read more about in its installation guide:Nokia_30_UG_en_.pdf
---
---