Introduction to Ozeki Bulk Messenger
If you want to deliver customized messages to thousands of customers via SMS, E-mail or Voice calls, but you don't want to share your customer database with a service provider, Ozeki Bulk Messenger is the right product for you.
Ozeki Bulk Messenger as fantastic tool for sending bulk SMS, E-mail or making Voice calls. You will love it, because it will makes you very efficient in completing these tasks. From the user's perspective it is a very simple software. You simply import your contacts, compose or record a message and you press send to deliver your message to the list.
What makes it unique is that you can organize, manage and most importantly keep your contact lists up to date. You can combine, add or subtract contact lists and edit them individually to tailor your list of recipients before you send your message out.
Of course you can include personalized data in the message for example account balance, deivery date or any other information. This information can come from a database, Excel, Active directory, TXT files or any other source. This personalized information can be added to SMS, E-mail or using our built in text to speech engine it can be read in voice calls. Download Ozeki Bulk Messenger Now, and try it for yourself. You will love it.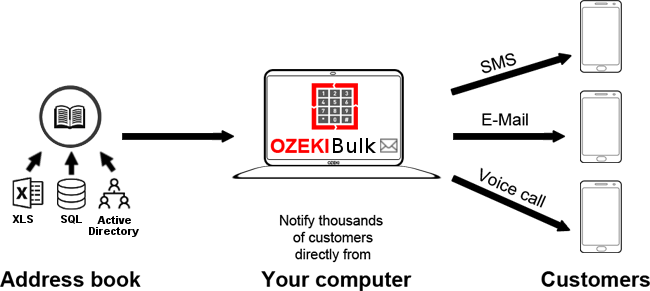 Figure 1 - Overview of Ozeki Bulk Messenger
Download Ozeki Bulk Messenger
You can download Ozeki Bulk Messenger from the link bellow. Please download it and try it now! If you do not find a featrure you are looking for, please let us know. Our team will do our best to make the product fit for your needs. Our phones are (and always will be) answered by humans, and all the e-mails we receive are read and answered.
Managing Contact Lists in Ozeki Bulk Messenger
A key feature is Ozeki Bulk Messenger is called Address book import. You may import your contacts from various sources, and most importantly you can keep the imported list up to date very easily. Supported sources:
You may also combine (add or subtract) multiple address books to get the right list of contacts, and you may make a copy and customize the contact details before message delivery.
If you install Ozeki Bulk Messenger on an Android mobile phone, you may use the contact database of the mobile phone itself.
Reaching people through SMS, E-mail or Voice
Use Ozeki Bulk Messenger for multiple message formats. You can send SMS, E-mail and Voice messages using this product. Select the best message format for the content you wish to delvier. Check out our recommendations:



Delivering persinalized information in SMS, E-mail or Voice
Deliver personalized information. Use data stored in your database (or in Excel files) to make each message you send unique. This feature is useful if you wish to send out information suche as account balances, delivery dates or address information.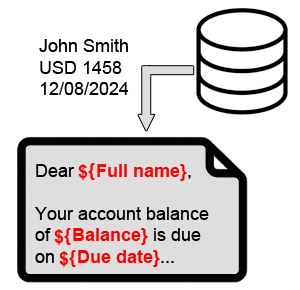 Customized messages from address book
Connecting your system to the mobile network to send bulk SMS
For SMS message delivery you have four options:

#1: Install Ozeki Bulk Messenger on Windows or Linux and attach an SMS modem to the computer using a data cable.

#2: Install Ozeki Bulk Messenger on Windows or Linux or Android and connect to an SMS service provider over the Internet

#3: Install Ozeki Bulk Messenger on Windows or Linux and connect to an Android phone for message delivery over your local area network (office LAN, Wifi or VPN)

#4: Install Ozeki Bulk Messenger on Android
You may install Ozeki Bulk Messenger directly to your Android phone. You can use it from the phone-s touch screen or you may connect to it from a remote PC.

Ozeki Bulk Messenger supports single SIM and dual SIM Android mobile phones.
Connecting your system to the Internet to send buik E-mail
Send E-mail through G-mail
To send out e-mails from your system, you can use your G-mail account or SMTP server. The following page gives information on how to setup Gmail for e-mail delivery from Ozeki Bulk Messenger:

Setting up G-mail is very easy, but if you wish to use Ozeki Bulk Messenger in a company, you might want to use your company's mail server instead.
Send E-mail through SMTP
If you don't want to use Gmail, you can use the SMTP service, provided by your Internet service provider or if you have a company mail server, such as Microsoft Exchange or Linux sendmail/postfix/etc you can use that.
Note that based on our experiences all Internet service providers offer SMTP service in most cases free of charge. Simply call them and ask for the connection details to their "smtp server" to send out e-mail messages.
Ozeki Bulk Messenger offers both secure and standard SMTP connectivity. To setup SMTP for E-mail please take a look at the following instructions.

When you use any of the above e-mail connections, you can send

HTML e-mail messages

Plain text e-mail messages

E-mail attachments

You can also use E-mail templates to speed up message composition, and to be more efficient.
Connecting your system to the telephone network to make automated voice calls
Make voice calls
You can make voice calls throught a VoIP GSM gateway or a VoIP PSTN gateway. The VoIP GSM gateway connects your system to the mobile network. The VoIP PSTN gateway connects to the land line.

Make voice calls in your company
Almost all companies use some kind of a VoIP PBX system, such Asterisk, Cisco or Avaya. You can use Ozeki Bulk Messenger to make Voice calls through this system.

Supported VoIP PBX systems:
Another option to make voice calls is to connect to a VoIP service provider over the Internet. When you sign up for the service you will receive the settings needed to configure Ozeki Bulk Messenger.