Sierra SMS modem setup

Ozeki NG 10 configuration

Functionality
The offical name of the Sierra SMS modem is "Sierra Wireless AirLink Fastrack Xtend GPRS Modem". This modem is capable of sending and receiving SMS messages through the traditional GSM signaling channel or through GPRS at a fast rate. It can also handle USSD, and SMS delivery reports.
You can connect this modem with an USB or an RS232 cable to your computer. On the computer, you can run one of our software to send SMS or to show the content of a received SMS.
This modem is operated via AT commands. It is programmable, which means AT command customization is available. The modem can also provide complete IP connectivity.
It features an open-standard expansion card interface, enabling you to add additional I/O connectivity or features like GPS, WiFi, Bluetooth, Zigbee and more.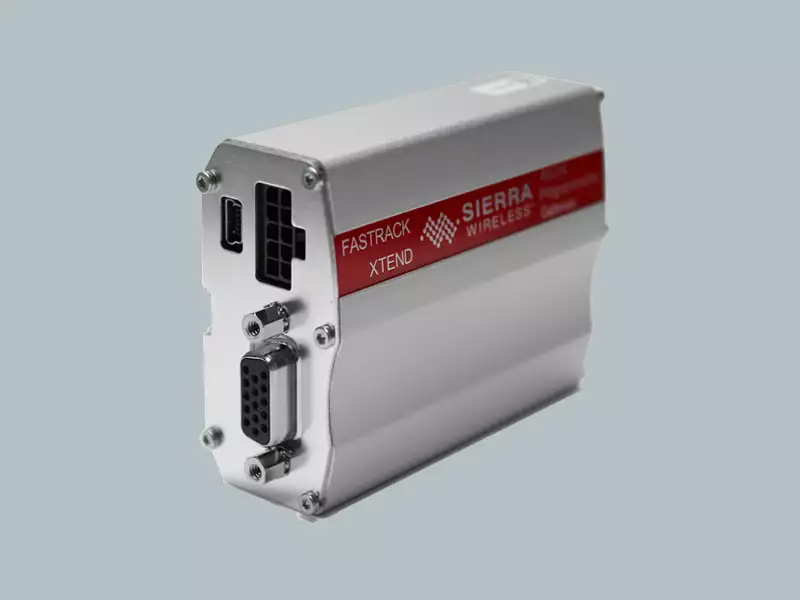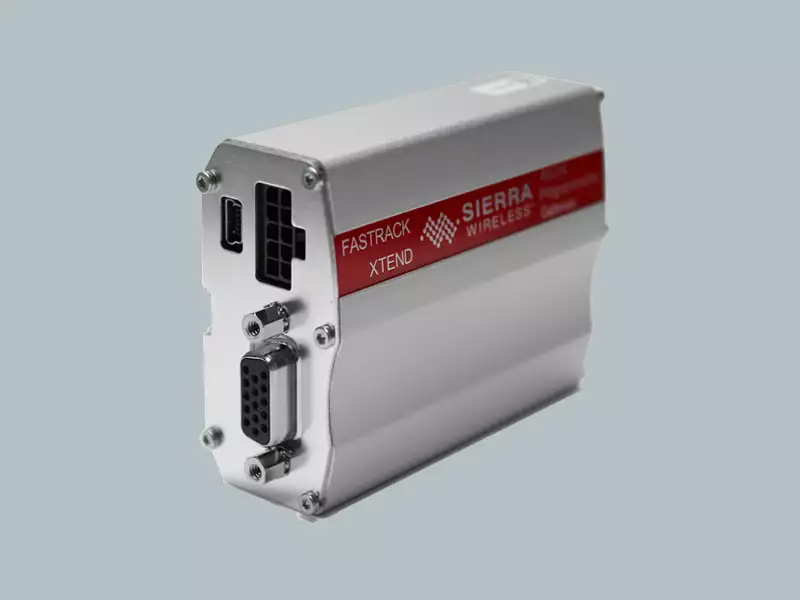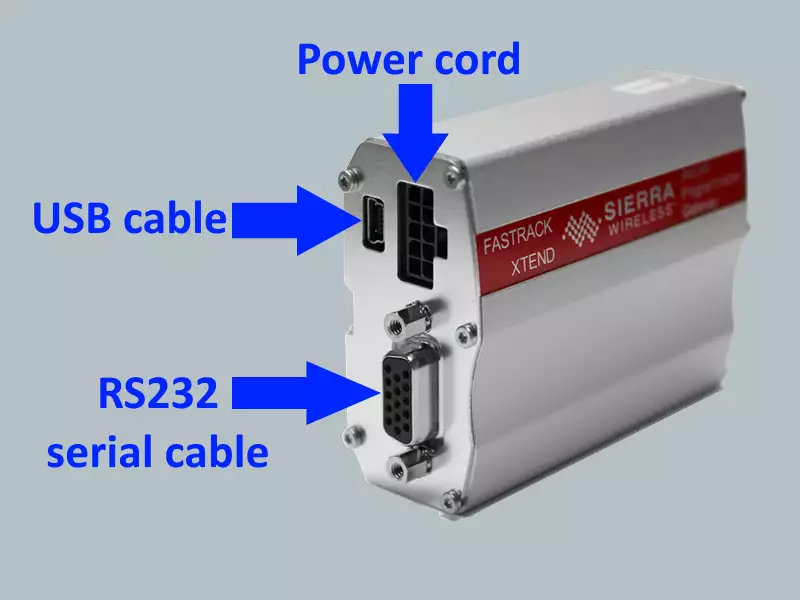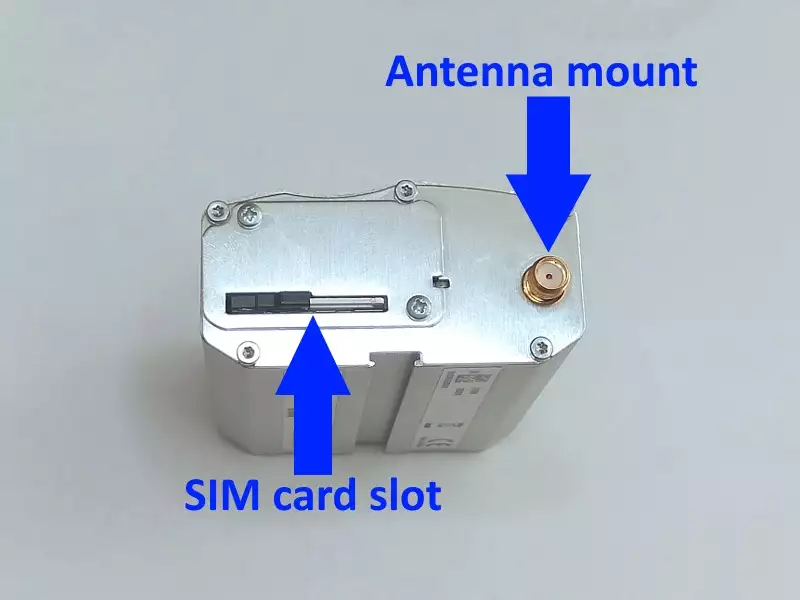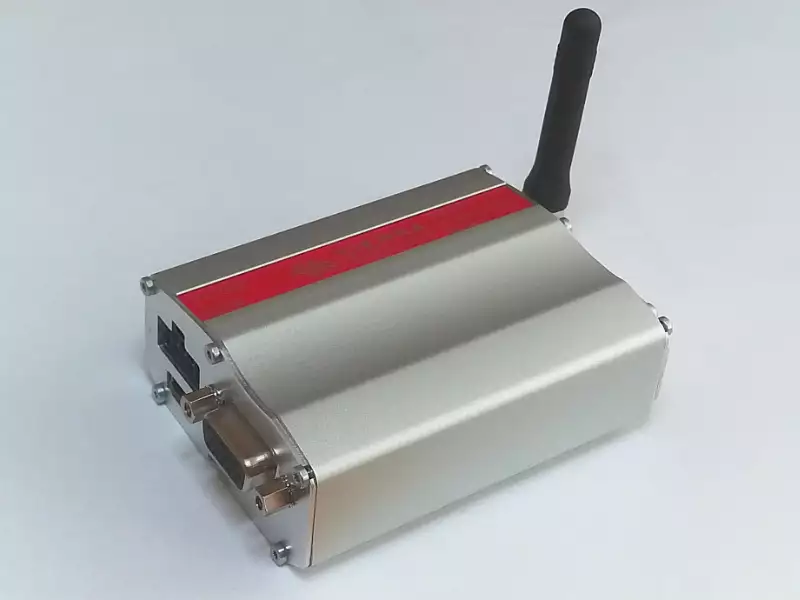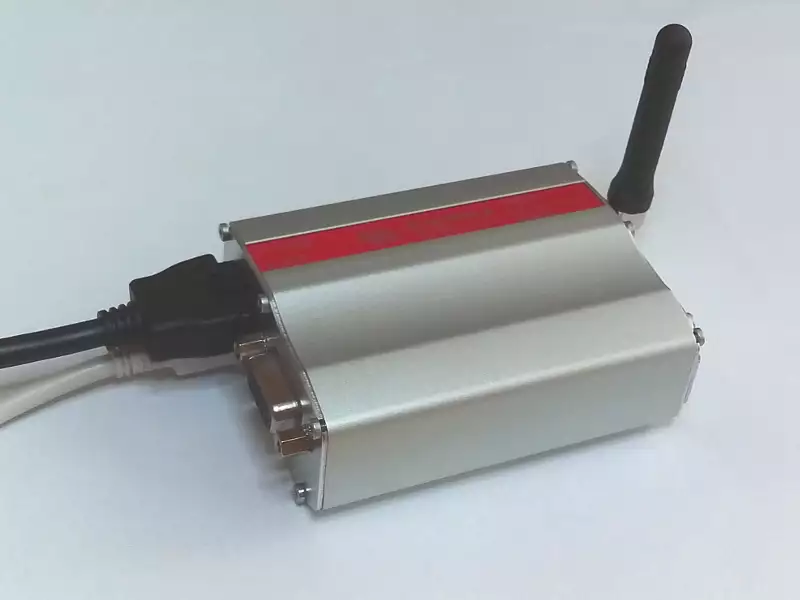 Datasheets
AirLink FXT Series (.pdf)
Supported AT commands (.pdf)
Sierra Wireless Fastrack Supreme
Opent AT Software Suite 2.0

Driver
Sierra Wireless GPRS Modem driver
Additional information
How to setup the Sierra Modem Power supply options Order a Sierra Wireless GPRS Modem
Using the Sierra SMS Modem for sending/receiving text messages
The Sierra Wireless SMS modem can be used for sending and receiving SMS messages. It can be connected to the USB port of your computer, and it can be setup in Ozeki products, such as Ozeki Dialer or Ozeki SMS Gateway to connect to the mobile network. It requires a SIM card, that needs to be inserted into the GSM modem. A standard SIM card used in any mobile phone can be used.
What you need
For sending SMS messages you need to connect the Sierra Wireless Xtend modem to a computer that has one of our communication software installed. Then the SIM card needs to be inserted into the GSM modem.
The main components you need to know about:
SIM card: it provides the telephone number. SIM cards are tied to a particular service provider and can only be used with a service plan from that provider. You can buy a SIM card at any shop of the service provider. You can find these shops at any shopping mall. Just ask the shop assistant for a "SIM only" subscription.
Sierra Wireless Xtend modem: it is a programmable modem that accepts the SIM card. You can connect it to the PC with a data cable for sending/receiving SMS messages. You can order Sierra Wireless Xtend modem directly from Ozeki with delivery time of 2-3 weeks.
How to connect Sierra Wireless Xtend modem to the PC
In order to connect the Sierra Wireless Xtend modem to the PC, you can use an USB cable and you can install a standard modem driver to allow communication between the computer and the GSM modem. Please follow the steps below to install the Sierra Wireless Xtend modem (Video tutorial).
In Figure 1 you can see the Sierra Wireless Xtend modem with its accessories. The two left cables are the DC Power Adapters, the next is the USB cable that ensures connection to the computer, the next device is the Sierra Wireless Xtend modem and finally, the SIM card is in the right side of the picture.

The Figure 2 shows the slot where the SIM card has to be plugged.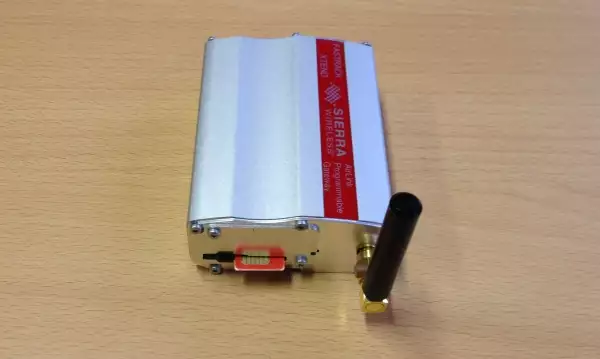 After you have inserted the SIM card into the slot you need to push it while a click is not listened (Figure 3).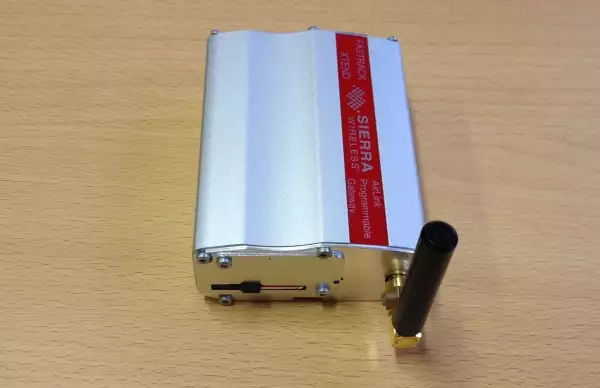 The Figure 4 shows the cables that you need to connect to each other. These cables are shown in the left side of the Figure 1.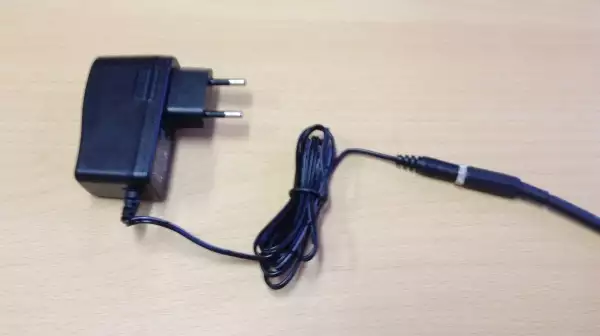 After you have put the cables to each other, you need to connect the other side of the cable to the Sierra Wireless Xtend modem as you can see on (Figure 5).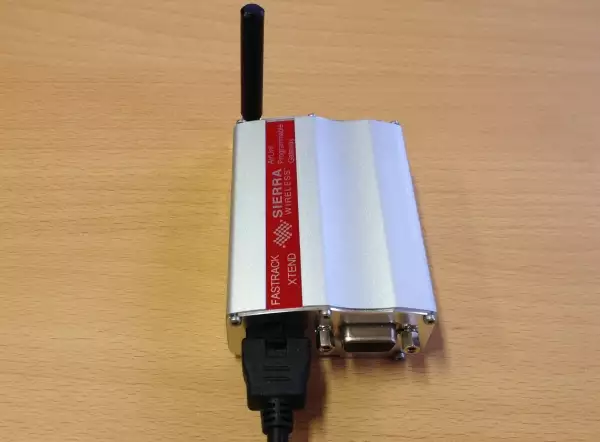 If you have connected the modem to the plug, connect it to the computer with an USB cable. The Figure 6 shows the slots to which you need to connect the cable.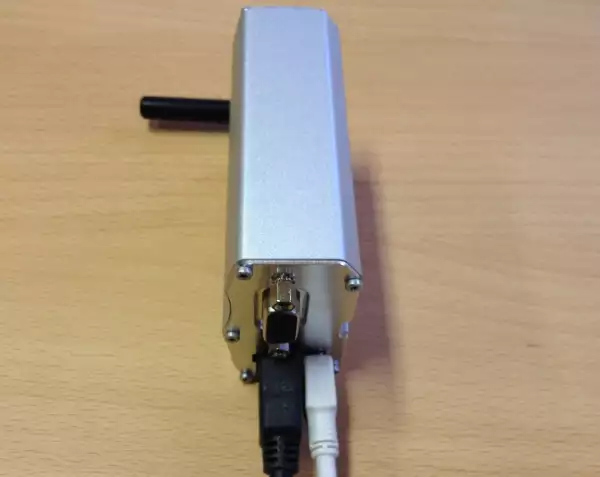 After connecting the cable to the Sierra Wireless Xtend modem, you need to connect the same cable to the USB port of the computer (Figure 7).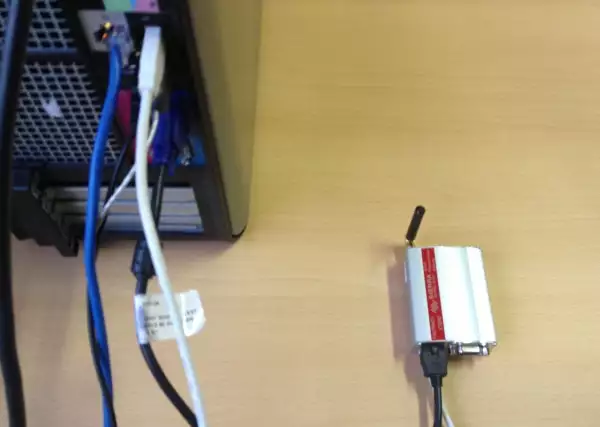 How to install Sierra Wireless Xtend modem driver
The next step is to download and install the proper driver of the Sierra Wireless Xtend modem. You can download it from the following link: Sierra Wireless Xtend modem driver.
If you have downloaded it, you need to open it and follow the instruction. If the installer offers you a newer version of the driver, accept and install it. During the installation you need to select items to be installed. First you need to select it, then agree the terms and click on the Install button.
At the end of the installation please restart your computer.
Quick Data sheet
Specification
Processor
ARM946/DSP
Control ptions
AT commands, c/C++ language, Lua Script
Connections
Power cord, USB cable, RS232 serial cable, Antenna mount
SIM Card slots
1
Air interface
EDGE
Frequency bands
850/900/1800/1900
Approvals
R&TTE, CE, GCF, FCC, PTCRB, China RTE, AT&T
Product dimensions
89x60x30 mm
Performance
Power
Alarm
400uA
Standby and Idle
2,5mA
GSM/GPRS max
400mA max (GPRS class 10 33 dBm)
CPU performances
Processor
ARM946/DSP
Core frequency
104 MHz/26 MHz
User MIPS available
87 MIPS
I/O voltage
2,6-15V (set by Vref)
Audio
Analog audio
1x speaker out - 1x micro in
Digital audio
with extension card
Codec
HR, FR, EFR, AMR
Quality
VDA2A
Echo Cancellation & Noise Reduction
High
DTMF
yes
Interfaces
UART
2 (1 on internal expansion connector)
USB
1
ON/OFF pin to power OFF the Fastrack Xtend
yes
Vref
2,6V-15V
SPI
2 on internal expansion connector
ADC
1 on internal expansion connector
DAC
1 on internal expansion connector
GPIOs connection and GPIO voltage reference
2 (2,6-15V) + 7 on internal expansion connector
RTC
yes
Timers (HW, SW, Capture)
yes
Interrupts pins
1 on internal expansion connector
Flash LED output
Network
SIM interface
SIM socket (1,8V/3V)
Expansion cards
yes
Battery
optional
Location solution
Expansional card
Embedded SIM
yes
Control options
AT commands, C/C++ language, Lua Script
Operating system
Open AT
Management services
yes
Drivers
Windows XP, Windows 7, Windows 8, Windows 10, Windows Vista, Windows Server 2008, Windows Server 2012
Operational temperature
-30°C to +75°C
How to use it for SMS text messaging
If you would like to use the Sierra SMS modem for text messaging, it needs to be connected to the Ozeki NG 10 software through a USB or RS232 data cable. In this setup, Ozeki NG 10 will instruct the sierra modem through AT commands to send the SMS messages. If an SMS message arrives to the modem, Ozeki NG 10 will read the modem's memory, it will download and delete the SMS messages.
Other uses
The Sierra SMS Modem can be also configured to be able to establish various other types of connections. The modem is equipped with an internal expansion socket (IES) interface which allows developers to further expand the hardware's capabilities. One can easily add additional connectivity features (examples: GSN, Bluetooth, Zigbee, WiFi and more) thus one also can populate with an expansion card from Sierra (3 popular Sierra expansion cards: IO expansion, GPS expansion, Bluetooth expansion). You can also build an expansion card one of your own.
The Sierra SMS modem combines the benefits of ease of use, superior quality and reliable supply, all at a very competitive price and without compromising Ozeki NG 10's quality. Therefore this modem is perfect for establishing a professional SMS service.
Sierra SMS modem with Ozeki SMS products
If you are planning to send fewer the 15 000 SMS/day Sierra SMS modems are the perfect choice with Ozeki SMS products. Note that if you need more messages, you will either have to use more then one Sierra SMS modem or you should switch to IP SMS connectivity, such as SMPP SMS (which is also supported by Ozeki NG 10). In order to operate an SMS service a SIM card is needed from your mobile network operator. The SIM card will charge you for the messages sent. Note, that in many cases you may get a SIM card with very low SMS tariffs.
More information