---
Arduino Nano Joystic Control Code
Analog Joysticks can be moved or pressed. Before using a joystick do not forget to lay it on a flat surface and leave it in the center position. Finally send a reset message to the joystick. After the origo is set you can move it in 4 directions and press the top button. Every joystick manipulation will generate an event. Joysticks can be used for interacting with physical or digital environments.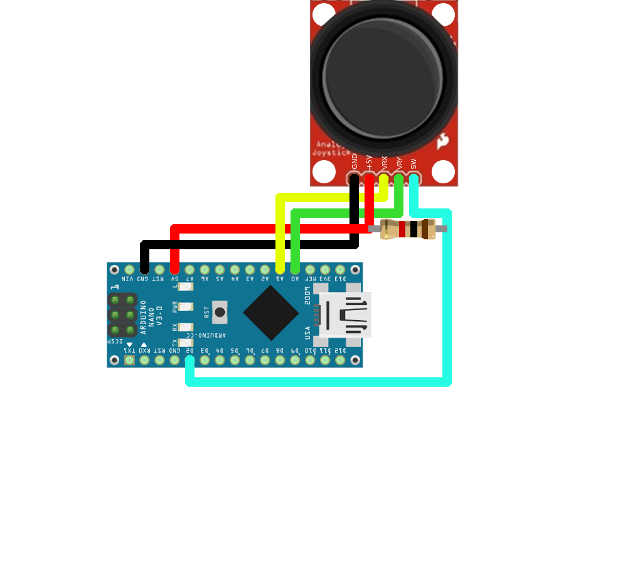 Required hardware
Arduino Nano
Joystick
Resistor 1kΩ
Source code to install on controller
---
Before you upload this code to your Arduino, please format the EEPROM...

#include <OzIDManager.h>
#include <OzAnalogJoyController.h>

// global pointers
OzIDManager* manager;
OzAnalogJoyController* analogJoyController;

// Joystick pins
const int buttonPin = 2;
const int xPin = A1;
const int yPin = A0;

void setup()
{
  Serial.begin(115200);

  manager = new OzIDManager;
  manager->_sendACK = true;
  manager->_checksum = true;
  
  OzCommunication::setIDManager(manager);

  analogJoyController = new OzAnalogJoyController(xPin, yPin, buttonPin);
  analogJoyController->reset(); //resets origo to current position

  int x=1;
  manager->sendLinkSetup();
  manager->PrintWelcomeLine(analogJoyController, x++, "MyJoystick");
}

void loop()
{
  OzCommunication::communicate();
  analogJoyController->update();
}

More information
---
---